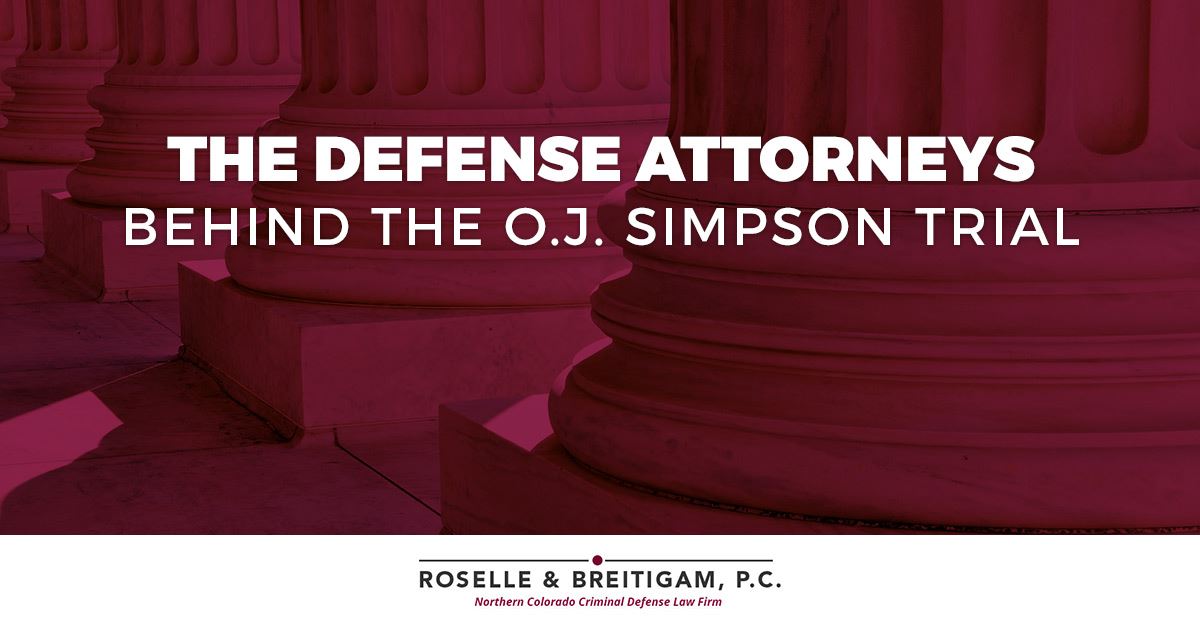 As criminal defense attorneys in Fort Collins, we are fascinated by famous criminal defense cases across the country. Recently, O.J. Simpson was granted parole after serving time for a 2007 armed robbery in Las Vegas. However, Simpson is far more famous for his 1995 murder trial, which is often referred to as the "trial of the century." Accused of murdering his ex-wife, Nicole Brown Simpson, and her friend Ronald Goldman, this former football star evaded conviction. At the time, this trial turned into a media circus as the entire nation watched the proceedings from their TVs. Today, we would like to discuss the legal team behind O.J. Simpson.
JOHNNIE COCHRAN
Considered by many to be one of the greatest criminal defense attorneys of all time, Johnnie Cochran served as the leader of his team. No stranger to representing celebrities, he was previously the attorney for rapper Tupac Shakur and Michael Jackson. In fact, many reports that Cochran and Simpson were casual friends for several years before the trial. Decades before he represented celebrities in legal pickles, he often took on police brutality cases against African Americans. Considering himself a lawyer for people from all walks of life, Cochran once famously stated that he served, "not only for the O.J's but also the No Js." Just ten years after the trial in 2005, Cochran passed away from a brain tumor.
ROBERT KARDASHIAN
Most likely, everyone is familiar with the Kardashian name, thanks to Kim, Khloe, Kourtney, Rob, and Kris. Head of the Kardashian household, Robert Kardashian was close friends with Simpson for decades before becoming a member of his legal team. Rumor has it that Kardashian wasn't so sure that Simpson was innocent, and their friendship dissolved. In 2003, Kardashian passed away from esophageal cancer.
F. LEE BAILEY
Prior to the O.J. Simpson trial, F. Lee Bailey was famous for representing the famous heiress Patty Hearst, the poster child for Stockholm Syndrome. Unlike Kardashian, Bailey always maintained, at least publicly, Simpson's innocence. Years after the Simpson case, Bailey was disbarred for allegedly mishandling millions of dollars of his client's stocks. Even after moving to Maine, his new home state refused to grant him a law license, so he now works as a consultant.
ALAN DERSHOWITZ
Even today, the career of Alan Dershowitz continues to thrive as he is now a Harvard law professor. Additionally, he has authored several books and become an outspoken Israel advocate.
THE INNOCENCE PROJECT
Two other attorneys on Simpson's legal team, Barry Scheck and Peter Neufeld formed The Innocence Project following the famous trial. This organization helps overturn wrongful convictions using DNA technology.
At Roselle and Breitigam, we represent a variety of different clients facing criminal charges. With years of experience working as prosecutors, we have an in-depth knowledge of both sides of the courtroom. Our defense attorneys in Fort Collins will always treat you with the respect and discretion that you deserve. Whether you are dealing with a misdemeanor or felony offense, we will do everything in our power to protect your rights.