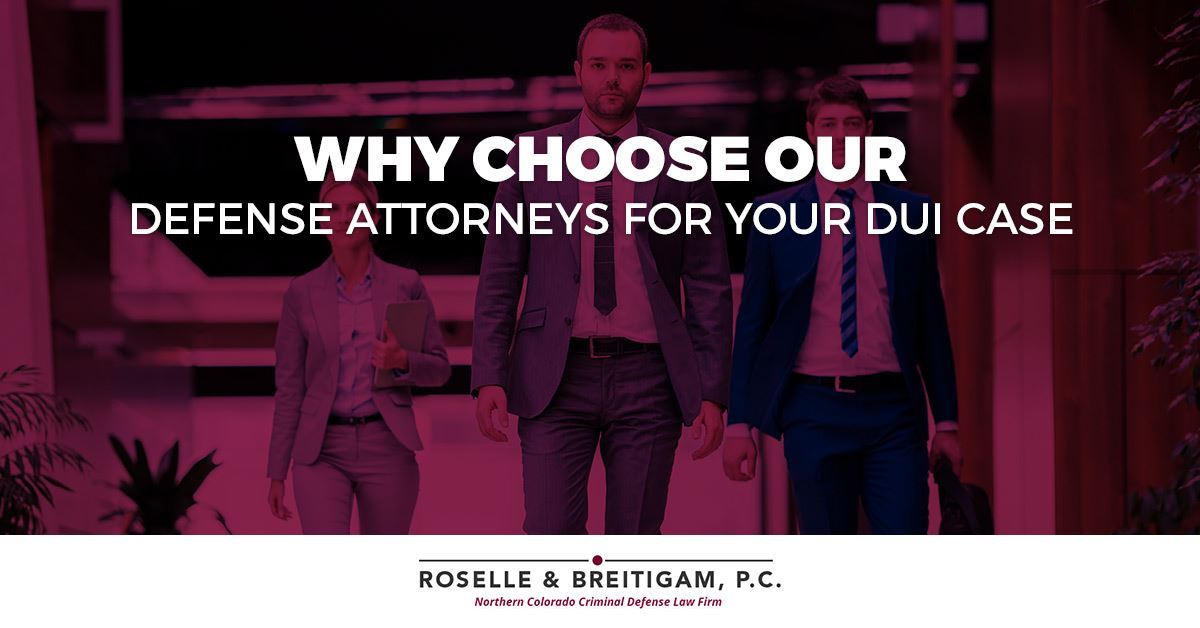 One of the most unsettling charges that you can face is a DUI, which is more common than you might think. DUIs can happen to anyone from an established doctor to a single mom to a college student. It's not unusual for people to have a drink or two and think that they are okay to drive, only to get pulled over by police. If their blood alcohol content is .08, they face DUI charges. However, even if the driver has a blood alcohol content of .05 to .08 percent, they could be charged with a DWAI (Driving While Ability Impaired). Facing either of these charges without appropriate legal representation could be a nightmare. Furthermore, if drivers are under 21, they face serious penalties if they have a blood alcohol content as little as .02 percent.
DUI CHARGES IN NORTHERN COLORADO
The Deputy District Attorneys in Weld and Larimer County don't take DUI charges lightly, and neither do our Fort Collins defense attorneys. Oftentimes, judges don't think twice about harshly convicting DUI cases, which could greatly impact your quality of life.
POSSIBLE FIRST-TIME DUI PENALTIES
Some of the different sentences could possibly include loss of driving privileges, heavy court fines and costs, possible jail time, and hours upon hours of community service and alcohol education courses.
THE ROSELLE AND BREITIGAM ADVANTAGE
Both of our defense attorneys at Roselle and Breitigam have several years of experience as prosecutors with an insider's understanding of a prosecutor's mindset. This specialized knowledge helps our attorneys prepare the case as thoroughly as possible. By crafting our case with painstaking detail, providing optimal legal strategies, and working closely with the prosecutor, we can help our clients receive less stringent penalties.
CHALLENGING THE CASE
In DUI cases, we examine every aspect of the government's evidence to see if your rights were violated. What was the officer's probable cause for making the traffic stop? Although you may think that your case is ruined due to blood and breath tests, that's not always the case, and we will challenge the tests if needed.
DIFFERENT PROCEEDINGS TO CONSIDER
Following a DUI charge, you will have to navigate a variety of both DMV proceedings as well as criminal proceedings, in which we will always assist you. As far as insurance rates are concerned, they can skyrocket following a DUI conviction. We will do everything that we can to minimize the increase in car insurance rates.
ADDITIONAL CHARGES
If you are also facing vehicular assault or homicide charges in addition to your DUI, you need the best legal representation possible. Additionally, eluding police can result in more criminal charges or worsen your case.
If you are facing DUI charges, you don't have to face them alone. Our experienced criminal attorneys in Fort Collins will protect your rights using the utmost discretion. You don't have to worry about feeling judged by our attorneys; we understand that mistakes happen and we will do everything possible to ensure that you receive a fair case. Contact Roselle and Breitigam today to get started.